Zerona Fat Removal in NYC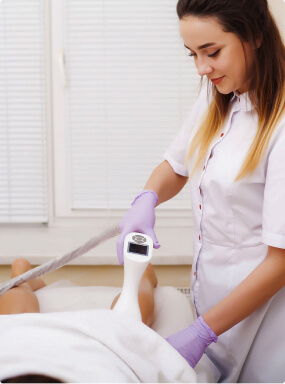 Are you looking for Zerona Fat Removal in NYC? Bioskin Laser is a medical spa in NYC with two locations in midtown and upper east side for your convenience. Our Zerona Fat Removal in NYC has been keeping our clients coming back to us as we are always committed to providing quality spa services. Our dedicated and experienced staff will deliver individualized services with compassion, professionalism, and the utmost respect for all our clients.
Are you having trouble losing weight around your waist, hips or thighs? An alternative to weight loss in these problematic fat areas may be right for you. When exercise and diet isn't enough, let Bioskin Laser help with the rest. At Bioskin Laser, we offer the state of the art Zerona Body Contouring laser fat removal to safely and effectively eliminate fat where it's hardest to get rid of.
Zerona Fat Removal FAQs
What Is Zerona Body Contouring?
Zerona is a low-level Laser Fat Removal device designed for non-invasive fat reduction in areas of the body that retain fat the easiest, such as the waist, hips and thighs. Thanks to its non-invasive and safe nature, you can visit us for your next treatment without having to wait out a recovery time, and the results can be long-lasting. This FDA-cleared technique leaves no bruising or pain, providing easy and effective Laser Fat Removal in Midtown NYC!
Note: Results may vary.
How Does Zerona Body Contouring Work?
Laser Fat Removal works by disrupting fat cell membranes, causing them to release stored lipids and fatty material, which in turn causes those cells to shrink. It's excess fatty material then leaves your body via detoxification. After scheduled treatments, you will notice results within weeks.
For more information on Zerona Fat Removal in NYC, contact Bioskin Laser at (212) 988-9188.
Bioskin Laser – Your trusted source for Zerona Fat Removal in NYC.